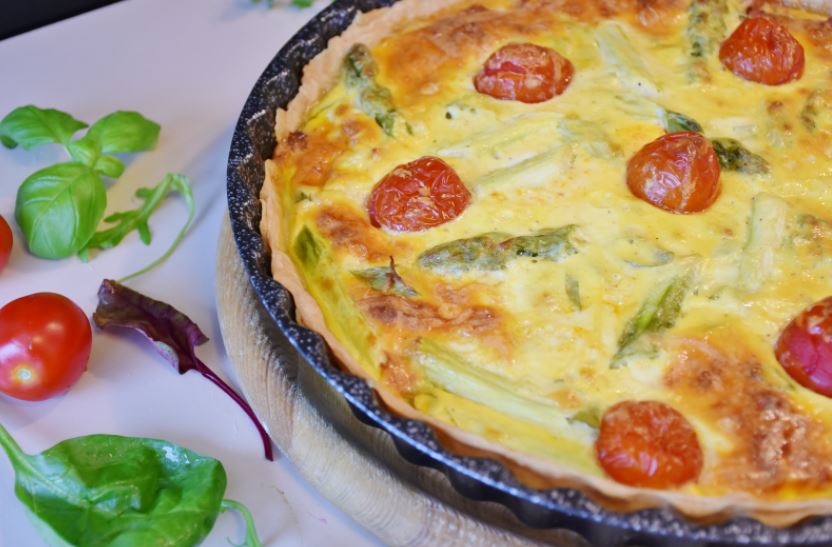 Ingredients:
 8 eggs, scrambled
 ¼ c. low fat milk
 1 small onion, chopped
 2 cups kale, chopped
 1 c. cherry tomatoes, cut in half
 ¼-1/2 c. shredded cheese
 1-2 tablespoons olive oil
 Salt and pepper to taste
Directions:
Scramble eggs along with milk, set aside.
Add olive oil, chopped kale and onions to medium sized pan and cook over medium heat until kale starts to wilt.
Add eggs to the pan. Stir to spread out the ingredients.
Stir in shredded cheese.
While the top is still liquid sprinkle in cherry tomatoes.
Cover the pan and let cook for about 5 minutes. If there is still liquid on the top, turn down the heat cover and let continue to cook.
Some people like to finish frittatas in the oven. If that is the case, after 5 minutes of cooking place pan in preheated 350 oven until eggs are fully cooked (another 5-7 minutes).
Nutrition information: Servings 8. Per serving 132 calories, 4 g carbohydrate, 9 g fat, 9 g protein
Recipe from: Feeding Pennsylvania