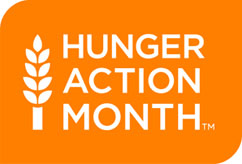 What is Hunger Action Month?
Hunger Action Month™ is the Feeding America network's nationwide awareness campaign designed to mobilize the public to take action on the issue of hunger. At Feeding Pennsylvania, we cannot fight hunger without the help of everyone in our community – so as part of Hunger Action Month, we invite YOU to join us in our "chain reaction of giving" campaign to take action to end hunger one helping at a time.
How To Get Involved in Hunger Action Month
Sharing, volunteering, pledging to advocate, fundraising and donating are just a few ideas for taking action this month.