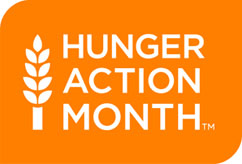 What is Hunger Action Month?
September is Hunger Action Month™— a time when the Feeding America network and the public come together to raise awareness and inspire action to help people facing the impossible choices of hunger. For millions of Pennsylvanians, a daily meal isn't a choice between different dishes. It's a choice between food and other crucial needs—like medicine, electricity, or childcare. Food shouldn't be an impossible choice. Choose to use your voice to end hunger.
How To Get Involved:
Sharing, volunteering, advocating, fundraising, and donating are just a few ideas for taking action this month!