What are Agricultural Partnerships?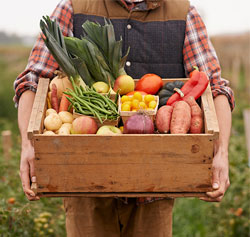 Pennsylvania is home to a diverse agricultural landscape spanning more than 52,000 farms covering 7.3 million acres. With this abundance of resources, there should be no reason anyone should be struggling with hunger, yet more than 2 million Pennsylvanians are struggling with hunger every day, nearly 630,000 of whom are children. That is why agricultural partnerships are of the utmost importance to Feeding Pennsylvania and our member food banks.
The issue of food security requires various partnerships and collaborations across a range of stakeholders to provide increased access to locally produced fresh fruits, vegetables, eggs, dairy, protein, and grains to families who need it most. Thanks to our relationships in the Pennsylvania agriculture community, Feeding Pennsylvania's food banks are able to offer a diverse range of nutritious food to our clients while supporting the Commonwealth's farmers, processors, and distributors.
Pennsylvania Agricultural Surplus System
The Pennsylvania Agricultural Surplus System (PASS) program was designed to support Pennsylvania's agricultural industry statewide – to reduce waste of surplus product, support local farms, and provide Pennsylvanians experiencing food insecurity with fresh and nutritious local foods.
PASS provides an efficient mechanism for Pennsylvania's agricultural industry to donate safe, wholesome food products while being reimbursed for the costs involved in harvesting, processing, packaging, and transporting these foods. Without PASS, these food products would likely otherwise be left to rot in the field, be plowed under, be dumped, or be landfilled.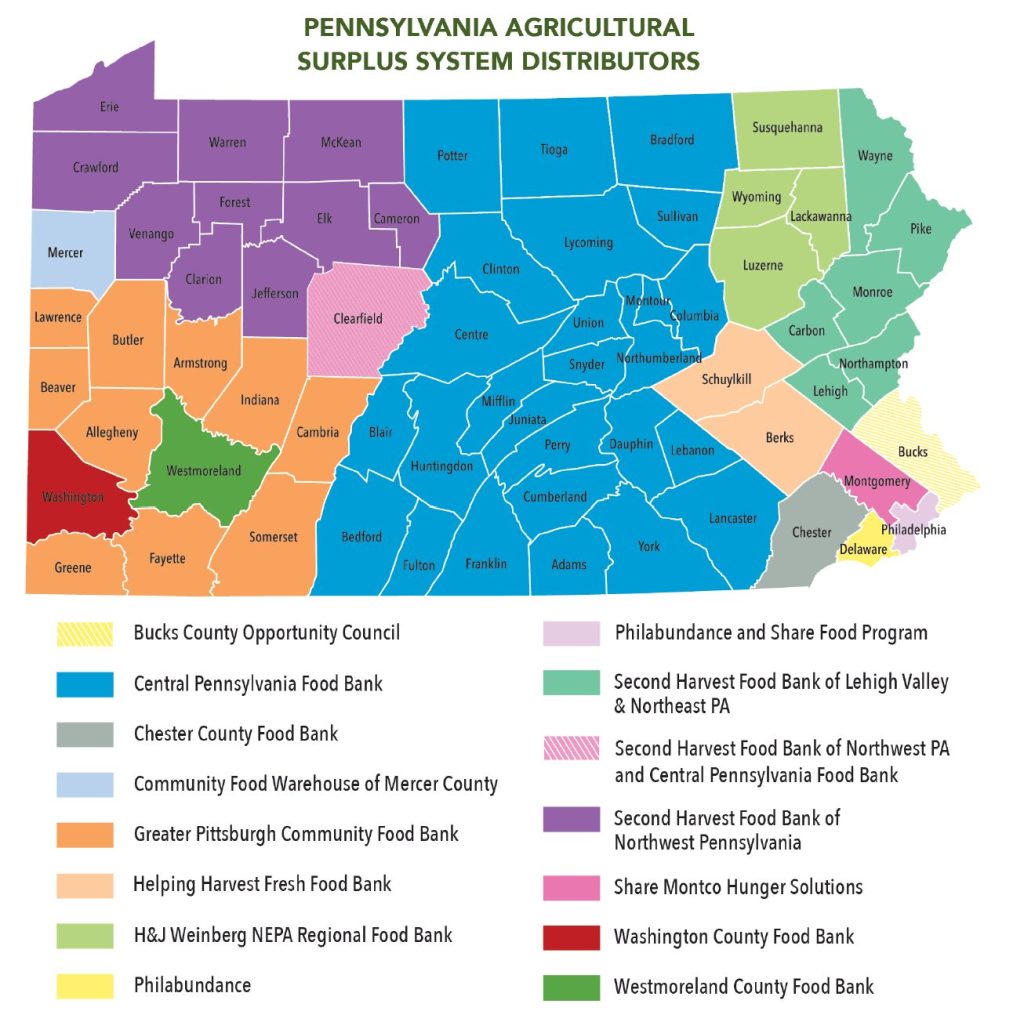 What kinds of foods are procured through PASS?
PASS funding is used to procure various different types of products produced right here in Pennsylvania. Some of these products include apples, asparagus, broccoli, butter, cheese, chicken, corn, cucumbers, eggs, green beans, ground beef, leafy greens, milk, peaches, pears, pork, potatoes, squash, strawberries, tomatoes, yogurt, and zucchini.
What are the prices of PASS products?
Prices are determined on a case-by-case basis dependent on product attributes. We aim for a fair price – we want our vendor farmers, producers, and processors to cover the costs of their business, including inputs, labor, packaging, ingredients, etc., but we also aim to help our food bank partners serve as many neighbors as possible. PASS products are always charitably distributed to those in need – they are never sold to, and no service is required of, neighbors eligible to receive food products.
How are PASS products distributed?
Thirteen local, charitable food distributors procure foods from Pennsylvania agricultural producers, packers, and processors, using state funding provided for the PASS program. Working with more than 2,700 local charitable partners – including food pantries, soup kitchens, feeding programs, and shelters – these distributors allocate food to help feed low-income Pennsylvanians in need of food assistance in all 67 counties.
How to Get Involved
Contract Planting
Growers can work with Feeding Pennsylvania and their regional food bank to plan a portion of their production to be donated to the charitable food system. This would include the product and amount to be donated, as well as any associated costs eligible to be covered by PASS.
Surplus Items at Harvest
Have surplus product? Any excess product at the end of the season can also be procured through the PASS program. If the product is in acceptable condition, we can work together to determine if there is a need.
Value-Added Products
Items such as dairy products, meat, eggs, and shelf-stable items using Pennsylvania-sourced ingredients are much-needed items at food banks and their agencies. These types of products are also eligible to utilize PASS funds.
PASS Agriculture Advisory Committee
The PASS Agriculture Advisory Committee includes industry leaders who understand the issues and opportunities of their respective sectors and how they may impact their relationships with food banks of the Commonwealth's charitable food network. The Advisory Committee helps develop and implement strategies to support strategic planning, promotion, and efficient management of the PASS program.
Members include:
Brian Campbell (Brian Campbell Farms)
Jennifer Reed-Harry (PennAg Industries)
Lela Reichart (Sterman Masser Potato Farm)
Chuck Turner (Turner Dairy)
Ryan Delea (Hillandale Farms)
Darryl Jones (Warrington Farm Meats)
Dave Smith (Pennsylvania Dairymen's Association)
Russell Thorsen (PASA Farming)
PASS Program Statistics
2022-2023 Program Year
Over 4 million pounds of Pennsylvania food products sourced through PASS, including:

Over 2 million pounds of Pennsylvania fruits and vegetables

Nearly 1 million pounds of Pennsylvania eggs and meat products

Over 825,000 pounds of Pennsylvania dairy products

Over 350,000 pounds of value-added items using Pennsylvania ingredients

103 Pennsylvania vendors participated in the program with the statewide food bank network, including 27 first-time participants (26% of total vendors)
Approximately 1.1 million households were served with PASS products over the past year
Historical Program Information (2015-2023)
Over 27 million pounds of Pennsylvania food products sourced – fresh fruits and vegetables, potatoes, fluid milk, cheese, yogurt, butter, eggs, chicken, beef, pork, and value-added foods
Over 5.3 million households served with PASS food products

Every year, product is distributed to all sixty-seven counties throughout the Commonwealth

212 Pennsylvania vendors have sold and/or donated local food products into the charitable food network through the PASS Program.

We have worked with vendors from fifty-three of the Commonwealth's sixty-seven counties as we work to source PASS products from throughout Pennsylvania
---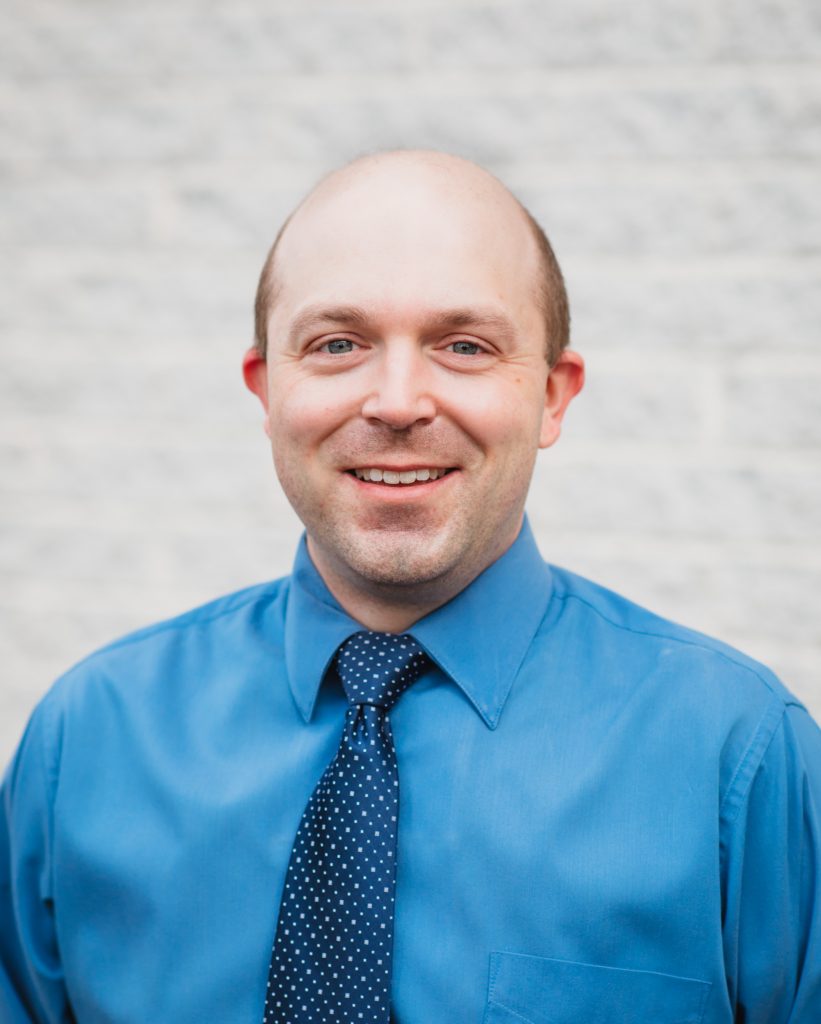 Questions?
Producers interested in participating in PASS should contact Tom Mainzer, Feeding Pennsylvania's Director of Agricultural Partnerships, at tmainzer@feedingpa.org.