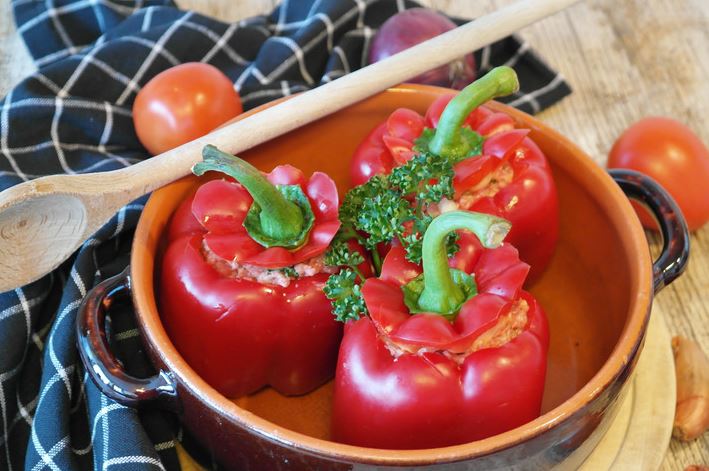 Ingredients:
 1 pound ground turkey
 1 yellow onion
 1-2 tsp garlic powder
 1 Taco Seasoning (store bought or homemade!)
 ¾ c water
 1 cup black beans
 3 bell peppers, cut in half
 ¾-1 cup salsa
 1 cup shredded Mexican Cheese
Tip: Feel free to top with some of your favorite taco toppings-avocado, sour cream, more salsa, etc.
Directions:
Preheat oven to 350 degrees.
Cut peppers in half and place in oven on greased baking pan. Cook for 15 minutes.
Meanwhile, in a frying pan over medium heat, cook ground turkey, onions, and garlic powder.
Add the taco seasoning and 3/4 cup water. Bring to a boil and then reduce the heat to medium-low.
Add the black beans and salsa and simmer for 5 minutes.
Scoop the taco filling inside each of the baked peppers. Top each with cheese. Bake in the oven until the cheese is melted.
Nutrition information: (1/2 bell pepper): 275 calories, 13 g carb, 12 g fat, 25 g protein
*Recipe adapted from thecozycook.com