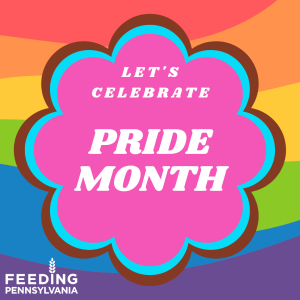 Celebrate Pride Month: LGBTQ+ Resources
In addition to celebrating Pride Month during June, Feeding Pennsylvania also recognizes the importance of supporting our LGBTQ+ neighbors all year. According to the Williams Institute at the UCLA School of Law, 26% of LGBTQ+ adults in Pennsylvania experience food insecurity; that's over twice the rate of non-LGBTQ+ identifying adults. The Gallup-Sharecare Well Being Index Survey, the survey used by the Williams Institute, defines food insecurity as ever "not having enough money to buy food that you or your family needed" in the past twelve months. Nationally, "LGBT people as a whole experienced poverty at a higher rate, meaning about 22% of LGBT people were poor, a low income that meets that poverty threshold say compared to about 16% of cisgender straight people," said Biana Wilson, PhD, an educator on public policy and social work from the Williams Institute in a podcast with FeedingAmerica Chief Equity Officer Ami McReynolds (read the full transcript of that podcast here: LGBTQ Food Insecurity | Feeding America). Are you looking for new reading material? Check out this "Fighting Food Insecurity in LGBTQ+ Communities in Pennsylvania" article from PA Eats written by Emily Kovach: Fighting Food Insecurity in LGBTQ+ Communities in Pennsylvania (paeats.org)
A key part of our mission at Feeding Pennsylvania is to provide a voice on the issues of hunger and food access within the Commonwealth of Pennsylvania. There is a plethora of organizations who specifically aim to support the LGBTQ+ community and those who identify who are also food insecure.
---
Hugh Lane Wellness Foundation: Hugh's Kitchen-Food Pantry
Located in the North Shore neighborhood in Pittsburgh, the Hugh Lane Wellness Foundation provides community services such as legal services, case management, events, senior meeting groups, support groups, and resource assistance in addition to operating a food pantry called "Hugh's Kitchen." Founded in 2017 "to improve the health of the LGBTQ+ and HIV communities" in Pittsburgh, The Hugh Lane Wellness Foundation strives "to create spaces and opportunities for individuals to be their authentic, courageous selves." This on-site pantry operates with the help of the Greater Pittsburgh Food Bank and 412 Rescue. Hugh's kitchen offers scheduled grocery pick-up at their offices at 925 Brighton Road Pittsburgh, PA 15233 Wednesday-Friday. Contact the Hugh Lane Wellness Foundation by sending an email to info@hughlane.org or by calling (412)973-5053.
Request assistance with food and hygiene products from Hugh's Kitchen here: Hugh's Kitchen Request Form (google.com)
Visit the Hugh Lane Wellness Foundation: Hugh's Kitchen webpage here: Hugh's Kitchen – Food Pantry | Hugh Lane Wellness Foundation
Visit the Greater Pittsburgh Food Bank website here: www.pittsburghfoodbank.org
---
The Mazzoni Center: Food Bank
The Mazzoni Center provides "quality comprehensive health and wellness services in an LGBTQ-focused environment while preserving the dignity and improving the quality of life of the individuals [they] serve." Founded as "Lavender Health" in 1979, this Philadelphia-based center was born out of the crisis caused by AIDS in the early 1980s and continues to serve the LGBTQ+ community by providing "expanded services which include HIV prevention and care, primary medical care, medical case management, mental health counseling and treatment of substance use disorder , legal services, youth support in schools, LGBTQ+ competency training, a food bank, and the annual Philadelphia Trans Wellness Conference." The Mazzoni Center's food bank is in a pantry setting, and it provides low-income Philadelphians with packaged food items. See the Mazzoni Center's food bank eligibility requirements below:
Any individual and their dependent members of their household living in Philadelphia and the surrounding counties is eligible to access our emergency food bank with a referral from their case manager or medical provider. Clients must also be Ryan White certified.
Referred individuals may access the food bank two times per month and receive the equivalent of four meals for each member of their household at each visit. Clients are provided with additional resources such as information on other local/neighborhood food cupboards and information on accessing SNAP (food stamps).
Food Bank hours are from 9:30am to 4:30pm on Monday, Wednesday, Thursday, and Friday; it is closed on Tuesday. Please note that the food bank closes from 12:30pm-1:30pm for a lunch break. For general questions, call (215)563-0652.
Visit the Mazzoni Center Food Bank webpage here: Food Bank | Mazzoni Center
---
Bebashi: Transition to Hope
LGBTQ+ people of color are disproportionately affected by food insecurity. Bebashi uplifts and empowers Black and Brown people to "enhance the quality of their health and overall well-being by providing access to culturally sensitive high-quality healthcare, HIV/AIDS services, health education, and social services." In 1985, Bebashi was "founded as a full-service HIV/AIDS organization with special interest in serving low-income people of color with HIV disease." Bebashi's newly renovated Food First Pantry offers neighbors a "choice experience model" which is similar to shopping in a grocery store; clients shop the pantry by selecting the fresh fruits, vegetables, meats, and nonperishable items they want. If someone lacks the resources needed to prepare food, they can purchase ready-to-eat meals at the Food First Pantry. In the past year, this pantry has provided 3,500 individuals and families with nutritious food in the Philadelphia area. Bebashi's Food First Pantry hours are from 11am to 4pm Monday through Friday. Please note the following, "Clients will require a referral for the Food First Pantry. In addition, due to Philadelphia's plastic bag ban that is currently in effect, clients are being asked to bring a reusable bag." For general questions, call (215)769-3561.
Watch a video about Food First Pantry's choice experience model here: https://feedingpa.sharepoint.com/:v:/g/EcozLrTkT0pLn2bG9zvYqowBxFdC4g8dWiIsLbCDSkFeAg?e=3L7gyi
Visit Bebashi's Hunger Relief and Nutritional Support webpage here: Hunger Relief & Food Bank in Philadelphia | Bebashi
Complete Bebashi's Food Pantry Guest Eligibility Form here: Food Pantry Guest Eligibility Form – Bebashi
---
LGBTQ Center of Greater Reading
In addition to resources such as a toiletry closet, library, support groups, a summer day camp, counseling, and events, the LGBTQ Center of Greater Reading also operates an on-site Food Pantry. This pantry is open from 11am-1pm on Monday, Wednesday, and Friday, and neighbors can pick up food any day of the week from 10am until 8pm. No client is every turned away from the pantry at this LGBTQ center. Those in need can go to the Food Pantry at 630 Centre Avenue in Reading, or they can call (484)513-3170 with any questions.
Visit the LGBTQ Center of Greater Reading's Programs and Services webpage here: Services | LGBT Center of Greater Reading (lgbtcenterofreading.com)
---
Find Your Food Bank
If you don't live within a reasonable distance to the agencies listed above, use this link to find your nearest food bank: Find Your Food Bank – Feeding Pennsylvania (feedingpa.org)
Once you've found your food bank, click on that bank's link below to search for your nearest pantry:
Central Pennsylvania Food Bank: Local Food Pantry Near Me | Central Pennsylvania Food Bank (centralpafoodbank.org)
Community Food Warehouse of Mercer County: Agencies | Community Food Warehouse of Mercer County
Greater Pittsburgh Community Food Bank: Find Food Guide (pittsburghfoodbank.org)
Helping Harvest Food Bank: Find Food | Helping Harvest
Westmoreland Food Bank: Food Pantries – Westmoreland Food Bank
Second Harvest Food Bank of the Lehigh Valley and Northeast Pennsylvania: Find Food | Second Harvest (shfblv.org)
Second Harvest Food Bank of Northwest Pennsylvania: Agency Locator « Food Bank (nwpafoodbank.org)
Weinberg Northeast Regional Food Bank: Find a Food Pantry – Commission on Economic Opportunity (ceopeoplehelpingpeople.org)
Philabundance: Find A Member Agency Near You – Food Map – Philabundance