One of my favorite ways to use black beans in place of ground meat is when I make tacos. I do not replace all the meat; I use one pound of ground beef or ground turkey and one can of black beans.  Serves 4-6
Directions:  Cook ground meat completely (165 degrees).  Add in one can of rinsed black beans.  Season with a taco seasoning packet or with homemade taco seasoning.  Add ¼ cup of water and stir.  Cook for 3-5 minutes until the beans are hot.  Sometimes I add canned diced tomatoes with the meat and beans.  Serve on whole grain tortillas. Top as you like, I enjoy shredded cheese, avocado, salsa or tomatoes and shredded lettuce.  You could also serve the taco meat and beans over a salad for extra vegetables.
Megan Greevy, Registered Dietitian
---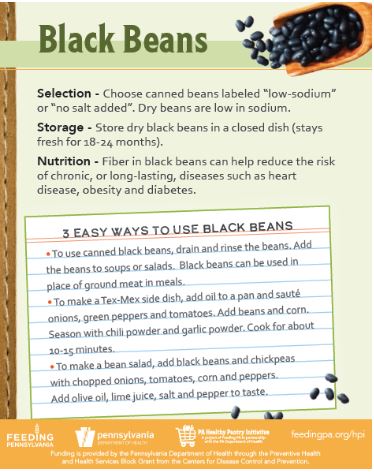 Beans are counted in two of our food groups.  They are both a protein food and a vegetable.  They are packed with nutrition and recommended for everyone!  To read more about beans and peas, visit: https://www.choosemyplate.gov/eathealthy/vegetables/vegetables-beans-and-peas
Beans are also a cost saver when swapping for more expensive protein foods like meat.
For more healthy eating on a budget ideas check out: https://www.choosemyplate.gov/eathealthy/budget
Additional black bean recipes: