What is prediabetes?  According to the CDC, Prediabetes is when a person's blood sugars are higher than normal but not yet high enough to be diagnosed as diabetes.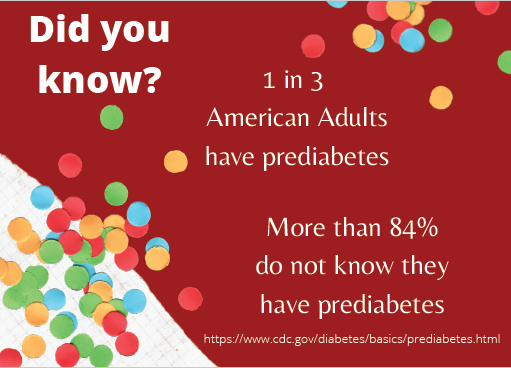 It is true, and the reason most do not know they have prediabetes is because there may not be any specific signs or symptoms of prediabetes.
Risk factors for prediabetes include:
Being overweight
Being inactive (physical activity less than 3 times a week)
Having a family member (parent or sibling) with type 2 diabetes
Being 45 years or older
Ever having gestational diabetes (diabetes during pregnancy) or giving birth to a baby 9 pounds or over
Race and ethnicity-African Americans, Hispanic/Latino Americans, American Indians, Pacific Islanders, and some Asian Americans are at higher risk.
https://www.cdc.gov/diabetes/risktest/index.html
Prediabetes is reversible and Diabetes is preventable.  There are lots of options for getting started!
The CDC has a nationally recognized Diabetes Prevention Program (DPP).  This lifestyle change program can cut your risk of developing type 2 diabetes in half.  For more information about the National Diabetes Prevention Program visit:                                 https://www.cdc.gov/diabetes/prevention/index.html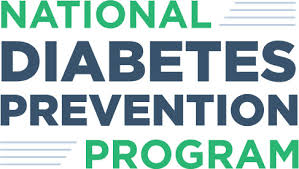 To find a Diabetes Prevention Program near you visit:  https://nccd.cdc.gov/DDT_DPRP/Programs.aspx
The American Medical Association recommends the following for preventing type 2 diabetes: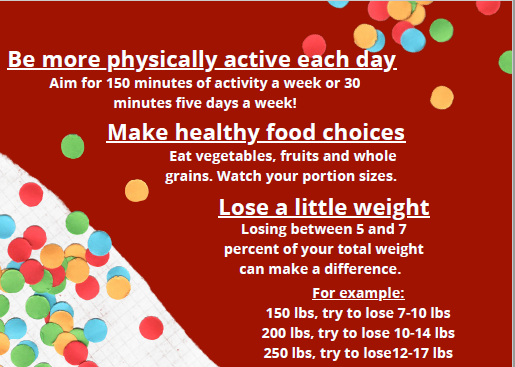 Tips for making healthy food choices
A Registered Dietitian Nutritionist (RDN) can help you with making healthy food choices as well as weight loss, you can ask your doctor for a referral to an RDN
Search for an RDN near you: https://www.eatright.org/find-an-expert 
Eating right for healthy weight
Tips for keeping your risk low