Summer brings great opportunity for fun fresh food and recipes. There is local fresh produce in abundance, sunshine and gatherings (although they may look a little different this year). The time will go quickly so take advantage of all the fun seasonal foods and recipes out there!
Not sure where to find local to you produce? Or unsure what is in season? Check out the following to get you started:
https://www.seasonalfoodguide.org/pennsylvania/
We encourage everyone to keep food safety in mind as they go through the summer season.
Things to keep in mind:
1. Wash/Rinse all produce prior to eating raw or cooking
2. Whether you are grilling or cooking in the oven always check internal temperatures
Not sure what the temperature should be? Check out this chart!
3.  Do not leave food out without maintaining the proper temperature. The Partnership for Food Safety Education recommends the following: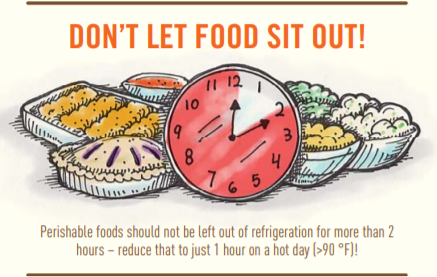 4. Keep raw foods (that will need to be cooked) and ready to eat foods (such as fresh fruits/vegetables) separated in coolers
5. Always remember to wash your hands!
To see more information on summer food safety visit: https://www.fightbac.org/food-safety-education/safety-in-all-seasons/#summer
The Partnership for food safety education website is full of all things food safety related: https://www.fightbac.org/
Did you know that grilling is not just for meat? Grilling vegetables can add a tasty twist to some of our usual veggies. Check out the following resources for tips on grilling vegetables:
https://foodhero.org/tips/make-it-happen/grilling-vegetables