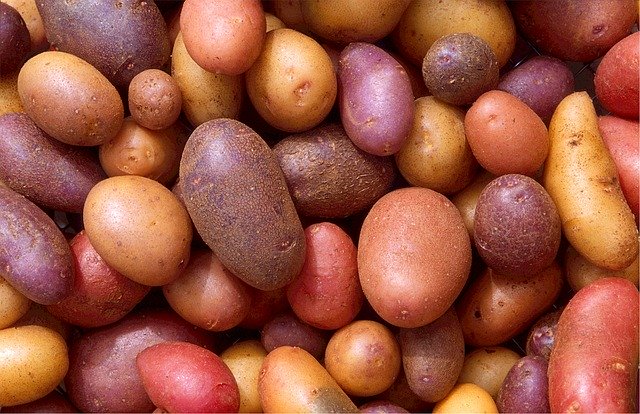 Potatoes can be a part of a balanced, nutritious diet.  A medium potato is about 150 calories, high in fiber, fat and cholesterol free and low sodium.  Potatoes also contain several important vitamins and minerals including potassium, vitamin C and vitamin B6.
Potassium and fiber are both nutrients that Americans on average do not get as much as they need (https://health.gov/our-work/food-nutrition/2015-2020-dietary-guidelines/guidelines/chapter-2/a-closer-look-at-current-intakes-and-recommended-shifts/#underconsumed-nutrients) 
Potassium supports heart health and can help to lower blood pressure.  Fiber as part of a healthy diet can prevent chronic diseases such as heart disease and diabetes.  Fiber can also help with weight management.
Read more about potassium and high blood pressure on the American Heart Association website: (https://www.heart.org/en/health-topics/high-blood-pressure/changes-you-can-make-to-manage-high-blood-pressure/how-potassium-can-help-control-high-blood-pressure).
Read more about fiber on the Academy of Nutrition and Dietetics website: (https://www.eatright.org/food/vitamins-and-supplements/nutrient-rich-foods/fiber)
Some key things to remember when choosing potatoes as part of a healthy diet:
Limit fried potato options, potatoes are fat free but when we fry them, we add fat and calories
Monitor portion size, potatoes are a starchy vegetable so portions are important
Watch what you add to and how you top them, often we get most of our calories from what we add to our potatoes
Use this Quick Baked Potato Method to reduce the amount of time in the oven.  Click here.   While the potatoes are cooking prepare your toppings.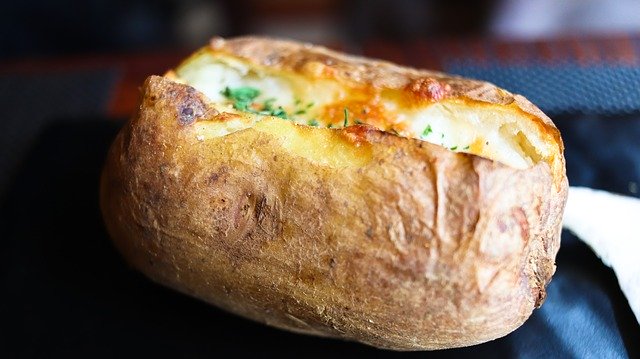 Ten ways to top your potatoes
Chili, make chili with lean mean and/or beans

Broccoli + cheese, steam broccoli and add a sprinkle of cheese

Black beans + salsa, salsa can add a lot of flavor to baked potatoes

Canned tuna + cheese, canned tuna reduces cooking time

Pulled BBQ pork + cabbage (or coleslaw), this can be a good way to use up leftover pulled pork

Chicken + cooked spinach, shred cooked chicken and saute with spinach

Cooked zucchini + diced tomatoes, cook zucchini and diced tomatoes together with spices

Saute onions + mushrooms, use oil and red wine vinegar when cooking onions and mushrooms

Buffalo chicken + cheese + green onions, add some hot sauce to your shredded chicken for a spicy baked potato

Sauerkraut, sauerkraut has lots of flavor and adds some crunch
Enjoy!  A tossed salad can be a good side to go with your baked potatoes.