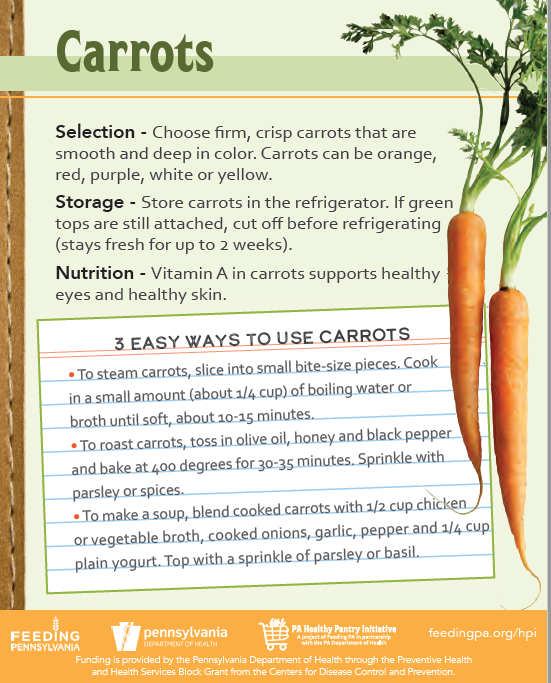 Carrots aren't just for soups and stews! These hearty, root vegetables are great for snacking, salads and can add sweetness to any dish. Orange carrots are the most common, but they also come in a rainbow of colors from yellow and white to red and purple.  
Carrots are known for being a good source of beta-carotene. Beta-carotene is an antioxidant. Colorful fruits and vegetables, like carrots, are excellent sources of antioxidants.  Diets rich in antioxidants can help reduce your risk for chronic diseases like heart disease and certain types of cancer.  
Carrots will last in the vegetable drawer in your refrigerator for up to one month. To keep carrots crunchy and fresh, try storing in a glass or plastic container with a lid. Remove carrot tops and add carrots to the container. Cover carrots with cool water and store in the refrigerator. If the water in the container starts to look cloudy, pour out the old water and add fresh water.  
Erin Spangler, Nutrition Educator
Five more ways to enjoy carrots: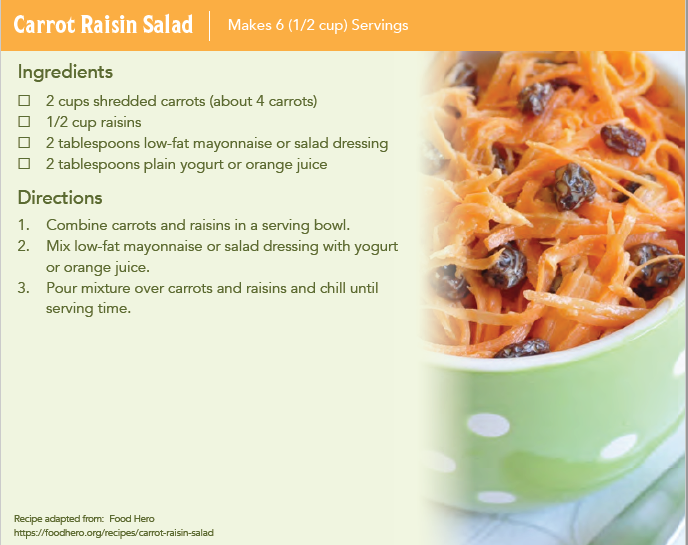 Shred them. Use a box grater to make a classic Carrot Raisin Salad. Make your own version or try the recipe above. Use shredded carrot as a topping for salads when you don't want to slice and dice.
Peel and chop into carrot sticks and enjoy with dip or hummus. Try making your own healthy ranch dip. Add ½ cup plain, low-fat Greek yogurt to a small mixing bowl. Add ½ teaspoon dill, ½ teaspoon garlic or onion powder, ¼ teaspoon black pepper and 1/8 teaspoon salt. Stir to mix.
Steam them for a speedy side dish. You can steam carrots in the microwave in just a few minutes. Peel and chop 2 carrots into ¼ inch thick rounds. Add carrots to a microwave-safe dish. Cover dish with a damp paper towel. Microwave for 2-3 minutes. Season 1 teaspoon oil and ½ teaspoon dried herbs and spices like dill, garlic powder, cumin or cayenne pepper.
Make quick-pickled carrots with vinegar and seasoning. Add quick-pickled carrots to sandwiches or wraps, add to salads or use as a topping for tacos. Check out the recipe for quick-pickled vegetables below.
Roast them. Roasted carrots are extra sweet. Preheat oven to 400°. Chop 2-3 carrots into ½ inch thick rounds. Season with 1 teaspoon oil, ½ teaspoon cinnamon, ¼ teaspoon black pepper and 1/8 teaspoon salt. For extra flavor, toss warm roasted carrots with 1 tablespoon orange juice.