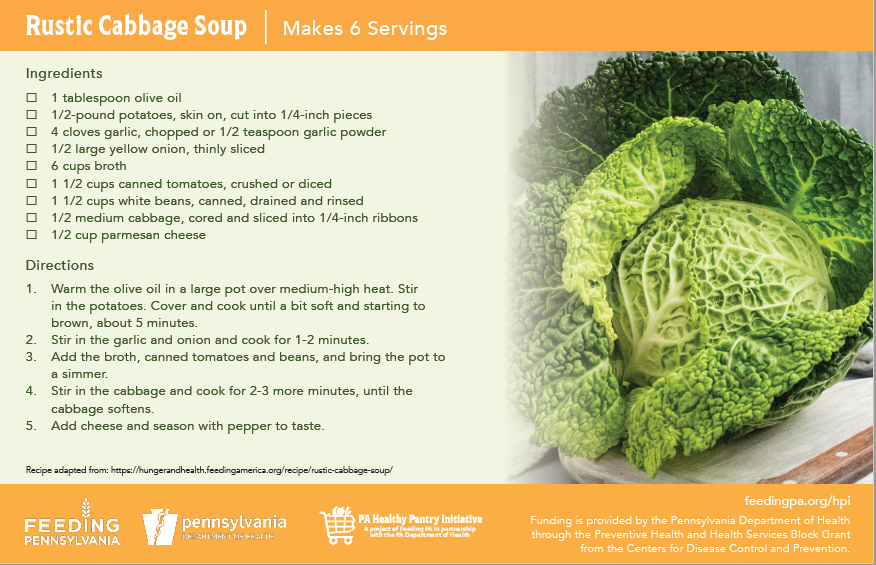 Soup is one of the most versatile meals to make! Don't have potatoes? Substitute carrots!  No cheese, no problem!  Soup is easy to freeze as well and save for a later date.  Cabbage is high in Vitamin C and Vitamin K, this humble vegetable can be eaten year round in many ways – cooked or raw.  Use it to make a homemade salad, slaw, soup or add shredded cabbage to tacos for extra crunch.
Alex Evenson, Nutrition Educator
Store uncut, unwashed cabbage for up to two weeks in the fridge, or blanch the leaves for 2-3 minutes and freeze for up to 6 months.
Unsure how to cut cabbage?  Watch this video for tips:  https://www.heart.org/en/healthy-living/healthy-eating/cooking-skills/cutting/chopping-cabbage-video
In order to avoid the sulfur smell that cabbage can produce, cook your leaves until just tender but still green and a little crunchy.
Here are 12 more ideas for using cabbage:
https://oldwayspt.org/system/files/atoms/files/12ways_cabbage_0.pdf
Additional recipes: