February celebrates American Heart Month and National Canned Food Month, and contrary to popular belief, canned foods can be a big part of a heart-healthy diet. Canned vegetables, fruit, beans and lean meat not only provide essential nutrients, but can also be convenient, affordable, help reduce food waste, and ensure people have access to a wide variety of foods throughout the year.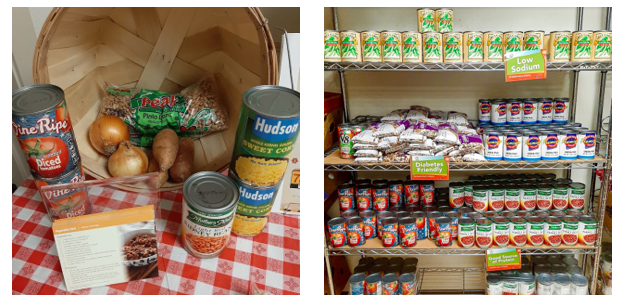 Convenient
Canned foods can be a nutritious option when fresh foods aren't available. Because canned foods can be stored safely for several years and typically require minimal prep time, they are a convenient and practical way to add more nutrient-dense foods to your diet. They can also be a good option to increase the amount of fruits and vegetables you eat when you're looking for a quick and easy meal.
Affordable
Not only are canned foods convenient, but they are also affordable. Canned foods help to reduce the cost of groceries and can be used to supplement fresh foods. What's more, is they tend to cost less than fresh products. Because canned foods have a longer shelf life, they can be a great option to reduce food waste and are a healthy addition to your pantry.
Variety
Canned foods help to ensure people have access to a wide variety of foods throughout the year. They can be a great option when looking to add variety when in the "off-season" for fresh produce.
Canned Food Tips:
While canned foods can be a part of a heart-healthy diet, it's important to read the label and ingredient list. Salt, sugar, or preservatives are sometimes added to canned foods to improve their flavor, texture, and appearance. To maintain a healthy, balanced diet, we suggest you look for low sodium and low sugar options. To avoid extra sugar, choose fruits that are canned in water or juice instead of syrup. Draining and rinsing foods can also be a good way to lower salt and sugar content. Some examples of healthy options are low sodium vegetables, low sodium tomato products, low sodium beans, lean proteins (tuna/salmon/chicken), and no sugar added fruit.

Healthy Pantry Initiative* and PA Eats Partnership
The Pennsylvania Healthy Pantry Initiative and PA Eats are working to increase consumption of healthy foods. Nutrition education resources like the following are one way we are promoting nutrition: Try this Turkey Chickpea Stew using canned low sodium tomatoes, canned chickpeas, and canned potatoes!

* Funding provided by the Pennsylvania Department of Health through the Preventive Health and Health Services Block Grant from the Centers for Disease Control and Prevention.