Are you an organization, business, or individual that believes that every child deserves access to healthy, nutritious food?
National School Breakfast Week is right around the corner and we need your help spreading the message! Feeding Pennsylvania is getting ready for our annual "Hear the Pennsylvania Crunch!" Campaign — a statewide effort to show the importance of school breakfast! This year we are doing a social media campaign to spread awareness on this topic. Our plan is to encourage our followers, government leaders, local businesses, and member food banks to post a photo on their social media platforms (Instagram, Twitter, Facebook, or LinkedIn)to help promote the importance of the National School Breakfast Program! The campaign/social clap will take place on Wednesday, March 10th at 10 am. Here's how:
Post a photo/video of you biting an apple!
Caption the photo: I/We joined @FeedingPA's #HearThePACrunch to help raise awareness around the importance of school breakfast and to support the work being done to ensure no child goes hungry. Together, we can tackle this statewide issue and help Pennsylvania's children stay full and stay focused. Happy Crunchin'! #NSBW21#SchoolBreakfast
Make sure to tag @feedingpa and use the hashtag #HearthePACrunch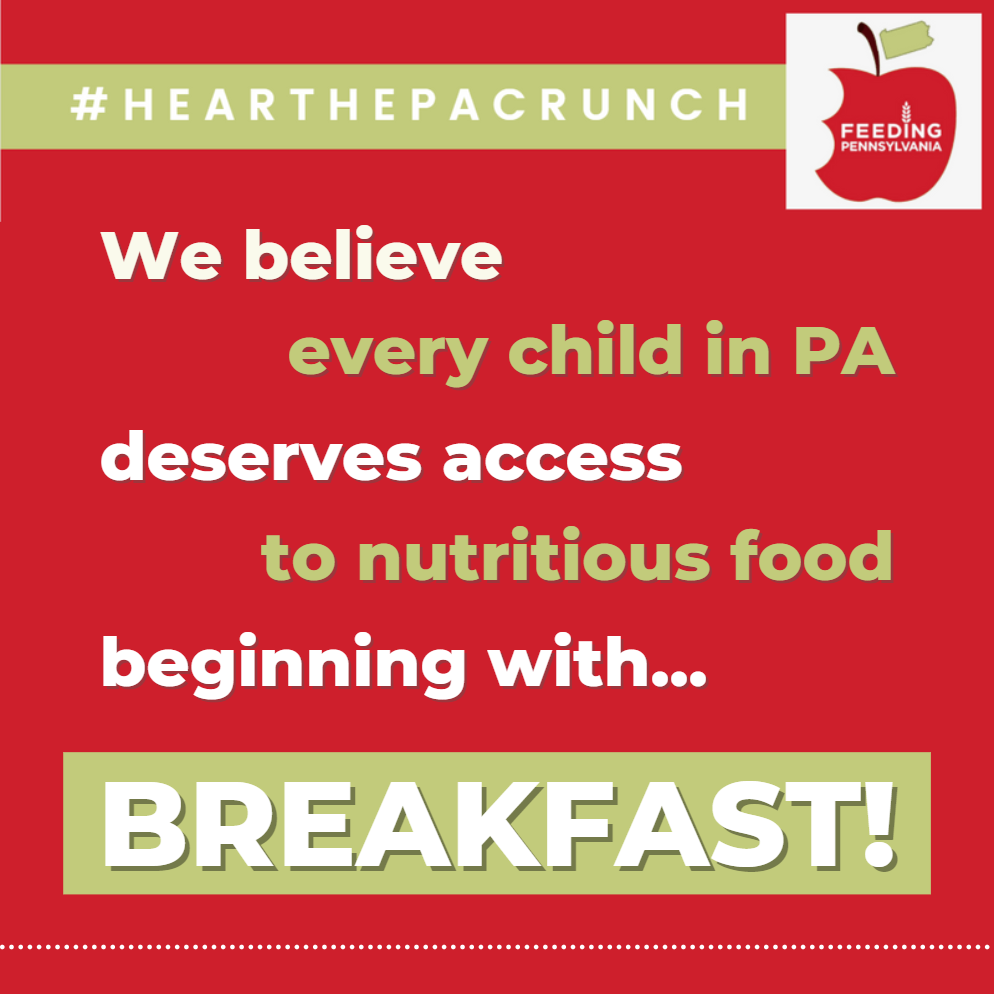 Feeding Pennsylvania, member food banks, and several partners will be posting a short, 10-second 'Hear the Pennsylvania Crunch!' clip and we want you to join us! Simply take a video of you saying, "Happy Crunchin'!" and then bite into an apple!
In addition to our Hear the Pennsylvania Crunch campaign, we encourage you to celebrate National School Breakfast throughout the entire week! Check out our social media tool kit for captions, graphics, and more to help us spread the word! Feel free to post these on any and all platforms!
For more information, email cfoster@feedingpa.org